18.09.2006 - Bulletin No:8
18.09.06 - Bulletin No:8
Contents:
First draft of ICT Workprogram 2007/2008 has been released for FP7
"Towards an SME friendly IST programme" – Policy Paper Published
Terminology changes:
· INCO becomes ICPC (International Cooperation Partner Countries);
· "Instruments" become "Funding Schemes";
· The separate "Coordination Actions" and "Support Actions" are grouped together to become "Coordination and Support Actions" (CSA);
· "Financial Guidelines" become "Financial Rules";
· "Model Contract" becomes "Model Grant Agreement"
· Under Eligible Costs, the word "Necessary" is replaced with "Used solely to achieve Project Objectives"
Other Changes:
· "Financial Collective Responsibility" is replaced by a "Mechanism to cover financial loss";
· The "Mechanism to cover financial loss" will be managed centrally and cost less than 1%;
· Different "Forms of Grant" could be used together in a given project;
· "Scales of Unit Costs" will probably be based on personnel;
· "Lump Sum Amounts" limited to €25,000 per category (e.g. travel) and per participant;
· Partner's total claim of less than €25,000 may not require an Audit;
· Audit mandatory when total claimed reaches €325,000;
· Anonymity may be partially introduced – only by the Workprogram;
First draft of ICT Workprogram 2007/2008 has been released for FP7.
A very preliminary draft of this first Workprogram for ICT in FP7 has been circulating informally. It identifies the first three calls:
Call 1 opening Jan/Feb 07 and closing Apr/May 07;
Call 2 opening May/Jun 07 and closing Sep/Oct 07;
Call 3 opening Dec 07 and closing Mar 08.
We have produced an initial mapping of the Call content of WP2007/08 draft 1 against the ETPs as follows: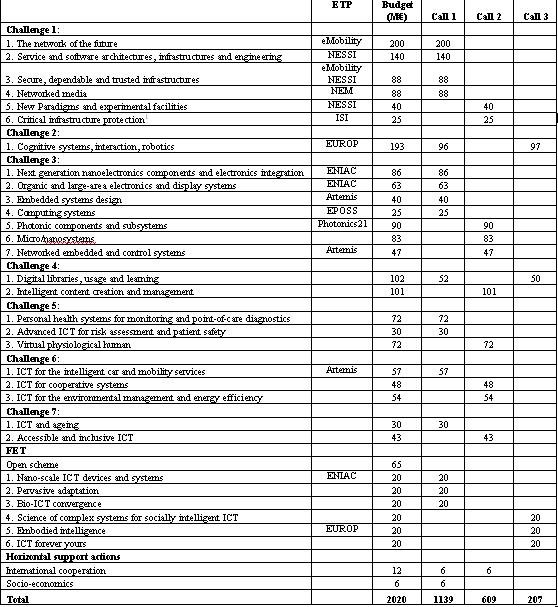 This program runs in parallel with FP7 and is complementary to it.
It replaces the following previous programs:
MAP, Innovation, LIFE Environment, Intelligent Energy program, eTen, eContent and Modinis.
The CIP Program consists of three separate areas or "Pillars" as follows:
In total, the funding for CIP is approximately 3.6 BEuro over seven years; i.e. around 500 MEuro per year.
1st pillar: EIP
Objectives:
1. Access to finance (direct funding for SMEs)
2. SME cross-border cooperation
3. Innovation and eco-innovation(environmental technologies,intelligent energy)
4. Entrepreneurship and innovation culture
5. Policy development
Main instruments:
1. Financial instruments (equity and loan guarantees)
2. Business support services
3. Projects (clusters, regional innovation)
4. Analysis and monitoring
5. Policy exchange
2nd pillar - ICT Programme
Objectives:
1. Single information space (open standards-interoperability)
2. Stimulating Innovation through investment in ICT
3. Inclusive information society (more efficient & effective services)
Main instruments:
1. Networks for exchange of knowledge
2. Pilot and market replication projects
3. Policy analysis & information
3rd pillar - IEE Programme
Objectives:
1. Improve energy diversification, Enhance competitiveness of EU
2. Protect the environment – 3 fields of action…..
3. Energy efficiency & rational use of resources (SAVE)
4. New & renewable energy sources (ALTENER)
5. Energy in transport (STEER)
Main instruments:
1. Promotion and dissemination projects
2. Market Replication Projects
The "Toolbox"
1. Financial instruments managed by EIF (European Investment Fund)
2. European Business and Innovation Support Services
3. Studies and analyses
4. Policy Development
5. Innovation projects, pilot actions, market replication projects, …
The IST conference is the main networking event and showcase covering research and development in information society technologies (IST). It is organised by the European Commission in cooperation with the Finnish Presidency of the European Union and will take place in Helsinki, Finland 21 – 23 November 2006. It coincides with the launch of the EU's Seventh Framework R&D Programme. Day One of the conference programme will feature high-level policy discussions on how governments can help ICTs contribute to an innovative Europe, with Days Two and Three devoted to the Seventh Framework Programme and other topics surrounding European research and innovation.
Registration to this event is now open and can be done here.
Finance Helpdesk Stand
The Finance Helpdesk will have a stand at the event and we at EFPC will be happy to meet you there.
"Towards an SME friendly IST programme" Policy Paper Published
This policy paper is produced by the "EPRI-start" and "Finance-NMS-IST" Projects and reviews the experience of SMEs concerning their participation in the Information Society Technologies (IST) programme within the sixth framework programme for research and development (FP6, 2002-2006)
The Paper covers lessons learned from FP6 and gives policy recommendations for FP7 with special emphasis on the situation in the New Member States
To view the either the briefing or full paper, please click here.
Below is a list of upcoming Workshops:
27/09/2006 3 Day FP7 Workshop in Dubrovnik, Croatia.
05/10/2006 Financial Aspects of RTD Contracts - Slovenia
17/10/2006 Financial Aspects of RTD Contracts - Poland
24/10/2006 1 Day FP7 Financial Workshop in Reykjavik, Iceland.
01/11/2006 Financial Aspects of RTD Contracts - Ukraine
13/11/2006 Financial Aspects of RTD Contracts - Portugal
14/11/2006 1 Day FP7 Financial Workshop in University of Southampton, UK.
04/12/2006 Financial Aspects of RTD Contracts - Croatia
06/12/2006 3 Day FP7 Financial Workshop in Zagreb, Croatia.


EFPC are currently looking for opportunities and collaborators to hold workshops.
If you wish to work together with EFPC and Host either an Internal or Public Financial Workshop, then please contact us here.
EFPConsulting has launched a new website - towards FP7.
The new site will be constantly updated in line with the latest FP7 information available.
Please note that the old site is still available for those of you that have links to it. We suggest however, that you update your links to ensure you recieve the latest information.
Please send comments to info@efpconsulting.com
IST Results www.istresults.cordis.lu homepage is now available in various languages: French, German, Spanish, Italian, Polish and Japanese. Also, an automatic translation system is now available which provides a "basic" translation of articles in French, German, Italian and Spanish. The quality of "machine translation" is still poor, however, we believe that this will improve and provide a very useful service.
· EFPConsulting hosted two Project Management Meetings in June for the BOOST-IT and CEEC-IST-NET projects.
· Together with Matimop and JVP Studio, EFPC gave three one-day workshops on June 15, 22 and 29, 2006 in Israel (Jerusalem, Tel Aviv and Haifa) under the BOOST-IT Project. The workshops intended to introduce the Seventh Framework Programme (FP7) to small and medium sized enterprises (SMEs) in Israeli incubators working in the ICT sector. Participants included managers from incubators and SME representatives from incubated SMES.
· There was much audience participation and feedback from all workshops was positive. The next step, which is already underway, is to carry out technology audits on suitable SMEs. This will be shortly followed up by matching these SMEs with project proposal opportunities in FP7.
· Under the EPISTEP Project, EFPC held an info event on 5 July 2006 for SMEs about the importance of the ENIAC European Technology Platform to future Research Funding in Nano-electronics and how organisations may be able to access this funding in the upcoming FP7 Framework Program.
• EFPC were key speakers at the Joint FP7 & European Technology Platforms Workshop and Brokerage Event that was held in Slovakia 12.09.2006. The event was organised jointly under the IDEAL-IST and EPISTEP projects and aimed to provide up-to-date information on:
- FP7 objectives and participation rules
- European Technology Platforms (ETPs)
- Competitiveness and Innovation Framework Programme (CIP)