10.04.2006 - Bulletin No:7
10.04.06 - Bulletin No:7
Contents:
Participation of SMEs in FP6 IST Program Projects
Commission's proposals for FP7
Budget Agreement reached on FP7
ICT European Technology Platform Interfaces
Use of EEIGs by organisations from non-member states
Framework Program Ethical Reviews
Status of Myer Morron's new book on ICT in FP7
Participation of SMEs in FP6 IST Program Projects:
Mr Myer Morron, CEO of EFPConsulting Ltd. has updated his report on the SME Participation in the FP6 IST Program. His original report was used and quoted in the Gago Report.
The Main changes / updates from previous version cover the following -
1. Broadened beyond Integrated Projects.
2. Impact of delays in contract signature and transfer of prepayments.
3. Micromanagement by Project Officers.
4. Lack of effective training for Project Officers.
5. Problems with interpretation of new rules by Evaluators.
6. Lack of use of weights in evaluation scoring
7. Variations in interpretation by different directorates.
8. Impact on project overheads caused by larger projects.
9. Various problems and inconsistencies in Financial Guide.
10. Lack of knowledge of financial rules.
11. Problems with having SMEs in NoEs.
12. Problems with lack of anonymity in technical evaluation.
13. Problems with the SME program itself.
14. Results of final Gago and Marimon reports and addition of Ormala report.
15. Lack of guidelines for project participation and management ethics and good practice.
16. Impact of European Technology Platform
The updated Report can be downloaded from here. (EFPC Paper 6)
Commission's proposals for FP7:
On 23 December 2005, the Commission published their proposal for rules of participation in FP7. The document contained the latest information available on the European Commission's plans for the rules of participation in the Seventh Framework Programme (FP7). The proposals are downloadable from here. (Proposed rules of participation in FP7 - COM(2005) 705 final)
EFPConsulting has issued a Response to this document and is downloadable from here. (EFPC Paper 4)
Budget Agreement reached on FP7:
The following is an extract from a Commission News release:
The EU budget for the term 2007 to 2013 was finally agreed in a lengthy evening session on 4 April. The total budget has gone up by 4 billion euro since the December proposals. This included 300 million euro extra for the Seventh Framework Programme (FP7).
Confusingly, the final figure for the FP7 budget has not yet been ironed out, although it will include the extra 300 million mentioned above. A Commission spokesperson said that the final details were in the 'i-dotting and t-crossing' stage. The total extra going to research and education, including FP7 funding, is 2.1 billion euro over the 2007 to 2013 timeframe.
In a statement, EU Research Commissioner Janez Potocnik said he was pleased that the 'agreement on the budget for the framework programme for 2007 to 2013 has been reached and that additional funds have been found for programmes that are targeted at EU growth and competitiveness. Now we have to get on with the important task of agreeing the programme that will implement this budgetary framework. The Commission, Parliament and Council will now work closely together to get this done as quickly as possible,' he said.
The new funds for research come from the 1a (Sustainable Growth: Competitiveness for growth and employment) pot, of which FP7 is a component. The total budget for this area will now rise to approximately 122 billion euro between 2007 and 2013. The 1a budget rises from 11 billion euro in 2007 to 23.4 billion euro in 2013, a rise of 212 per cent before the additional 2.1 billion is factored in. This large rise is considered essential for continued EU growth and sustainability, especially through research and innovation, in an increasingly competitive world.
FP7 is a cornerstone of the Lisbon strategy, which aims to increase European competitiveness. Leading by example, FP7 will be simplified in order to provide clearer themes and cost savings through its content, organisation and implementation.
ICT European Technology Platform Interfaces:
As part of our activities on the EPISTEP project, we have been attending and participating in European Technology Platform events. It has become clear that there are technical relationships between the platforms. One cannot describe them as "overlaps", as that would give the impression of duplication. We feel it more appropriate to call them "interfaces".
In pursuing this topic further we have identified thirteen specific interfaces between the current eight ICT ETPs. We are currently incorporating this in a paper on the subject.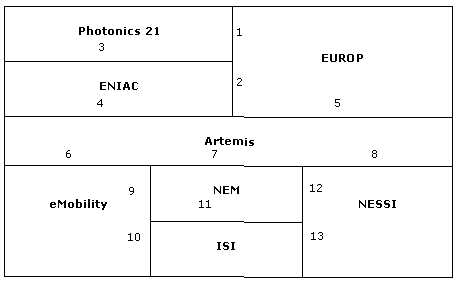 It is interesting to note that some of these thirteen interfaces have already been identified by the platforms themselves. For example interface 4, above has been identified by Artemis and ENIAC and they have a joint Working Group defining their relationship. We wonder which others are already being addressed.
Opportunity for EPISTEP SME support at Artemis Conference 2006:
The third annual conference of the embedded systems European Technology Platform ARTEMIS will be organised on 23 and 24 May 2006 in Graz, Austria. The conference, involving the main European stakeholder in this area addresses keynotes from industry and government on embedded systems, presentations on the realizations of the ARTEMIS Strategic Research Agenda as well as joint sessions between different Technology Platforms.
The conference will be attended by around 300 delegates from all over Europe. EPISTEP supports SMEs in being heard at the conference! EPISTEP offers you the possibility to:
1. present your expertise in a poster session
2. disseminate detailed information on a SME booth
3. distribute SME technology offers / request profiles
4. to get in touch with ETP players.
General information on the conference is available on: http://www.artemis-office.org/
1. to participate in the poster session on 23 May morning, get in contact with Arwed Exner / ZENIT: ae@zenit.de
2. to be part of the SME booth at the conference, get in touch with your EPISTEP partner (who sent you this information, or see the full list of partners at: http://www.epistep.org/)
– if you intend to man your own booth, register at: http://www.artemis-office.org/
3. to distribute your technology offers / request profiles, also get in contact with Arwed Exner / ZENIT: ae@zenit.de
If you prefer, you can also get in touch with EFPC for further information or assistance.
Use of EEIGs by organisations from non-member states:
The Commission has always encouraged projects to form themselves as legal entities via the EEIG (European Economic Interest Grouping) mechanism. However, it has been brought to our intention that members of an EEIG have to have a statuary official address in the EU and have carried out economic activity in the EU prior to setting up the EEIG. In effect this means that organisations from Associated Candidate countries and Associated States cannot be members of EEIGs and therefore would have problems participating in projects set up as EEIGs.
The Finance Helpdesk issues free newsletters relating to FP6 Financial Rules, the new FP7 financial regulations and other things you should be aware of. Only those that register with the Finance Helpdesk will receive it.
If you are interested, please register here.
The Finance Helpdesk is partially funded by the European Commission and is part of the Finance-NMS-IST Project.
Framework Program Ethical Reviews:
11% of all funded FP6 Projects have undergone an Ethical Review. The purpose of Ethical Reviews is to:
- Ensure that FP6 ethical rules are complied with and that the European Union is not supporting research which would be contrary to the fundamental ethical principles of FP6
- Raise researchers' awareness about ethical issues in research and ensure that these are properly addressed
Ethical reviews take place after the scientific evaluation and the results of the ethical review are used during contract negotiations.
The 11% statistic for FP6 will grow rapidly in FP7 – particularly within the ICT Priority as the IT industry advances. (RFID, Sensitive Data Collection, Data Protection, Duel Use, etc.)
EFPConsulting staff have been heavily involved as evaluators in these Ethical Reviews and would strongly recommend that this aspect of proposals is taken seriously by proposers. Failure to address such issues properly may result in proposals being rejected.
EFPConsulting now offers Ethical Review Red Teaming for proposals.
EFPConsulting will be hosting two Project Management Meetings in June:
The Chief Scientist Dr. Eli Offer and the director of the Incubator program Mrs. Rina Pridor, will be presenting at the BOOST-IT consortium meeting June 2006 in Tel-Aviv, Israel. The event will include an opportunity for the consortium partners to visit Israeli incubators and meet beneficiary SMEs.
The partners are completing a large mapping activity, identifying the status, trends and key – actors in 19 technology sectors in the following countries: Bulgaria, Czech Republic, Estonia, Hungary, Latvia, Lithuania, Poland, Romania, Slovakia and Turkey. The meeting will be an opportunity for discussing completion of this activity with the consolidated report and opportunities for disseminating the information.
Status of Myer Morron's new book on ICT in FP7:
Myer has been working on this over the last several months and had hoped to publish an initial draft about now. However he has decided to hold off until some aspects are clearer and thinks he will release an initial version sometime next month.
Financial Workshop in Croatia:
EFP Consulting will be carrying out 3 Day FP6 Financial Workshop in Zagreb, Croatia (08 - 10 May). For more information, please click here.